Converting to a Greener Bus Fleet
By 2040, we're committed to having a 100 percent alternative-fuel fleet.
Transit plays an important role in reducing greenhouse emissions — our bus and train service replaces an estimated 210,000 car trips every day.
Yet, with about 700 diesel buses, we're the largest purchaser of diesel fuel in Oregon. We think that needs to change.
Our plan
We're currently testing battery-electric buses, with five buses expected to be on the road soon. In 2019, we'll be purchasing 10 more battery-electric buses, followed by another 50 over the next three years. These buses represent our trial fleet, and they'll help us decide if we can go full steam ahead with our conversion efforts.
If everything is looking good, expect us to purchase between 50 and 80 alternative-fuel vehicles most years until the late 2030s, when our bus buying will slow as our fleet approaches 100 percent alternative-fuel.
In addition to buying new buses, we need to install new infrastructure to power them. For battery-electric buses, this means a mix of on-route and garage-based chargers. We have over 80 bus lines, so this will be a major undertaking.
Other Sustainability Initiatives
Why 2040?
We'd love to transition our fleet faster, but there are factors that make 2040 a more realistic and responsible goal.
The lifespan of a bus is about 16 years. The diesel buses we purchased this year will be on the road until about 2035.
We're still testing alternative fuels and we don't know which is going to be the best for our needs. It could be battery-electric, or it might be hydrogen, renewable natural gas or another promising fuel source that may emerge. Alternative-fuel buses are in their infancy in North America. It's going to take us a few years find the best path forward, all while we're still purchasing diesel buses that will be on the road for about 16 years.
Switching our buses is expensive. An electric bus currently costs twice as much as a diesel bus. While there are significant cost savings in reduced maintenance and fuel costs, those savings are realized over the life of a vehicle. While we do expect the cost of alternative-fuel buses to come down over time, we still need to account for the significant upfront cost.
Potential roadblocks
There are a few things that could slow our conversion. Our plan assumes the cost of these buses will come down over time. If they don't, additional funding sources will need to be found or it will take us longer to transition our fleet.
We're also counting on tax credits to help us afford the significant cost. If state or national policies change and those funds are no longer available to us, converting will take longer.
If these buses don't perform up to our standards, we'll have to test other fuel-source buses and may have to wait until alternative technology advances.
We're confident in our plan — which you can read here — and we're excited to do our part to help ensure a cleaner future for the Portland region.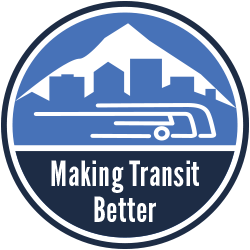 We're working to grow our network of buses and trains while making your ride smoother, safer and more reliable.